Elizabeth Ting
Crucial first time pass
James was very calm and a great instructor for me to learn the UK roads. He explained things in just the right way to help me understand which was great as I was starting a new job the week I passed my test and I really needed to drive! Thank you James.
Gabriel
Really encouraging and patient
I was really pleased with James's approach to my driving. He guided my lessons at just the right pace to give me the confidence I needed. He also arranged for a mock test with another instructor so I could experience some of the pressure of the test situation. This was great because I made all sorts of mistakes that we were able to fix before I passed my test FIRST TIME! I'm all set now for a new job. Thanks James!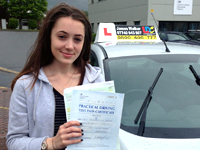 Vix
Passed 1time
With the help of James I passed first time. His patient and friendly personality within lessons helped me to build my confidence whilst driving. I would highly recommend him to anyone looking to learn! Amazing instructor! A very big thank you!
Cody
Highly recommended
I would like to thank you very much for your tuition and enabling me to pass my driving test with only one minor. Going into the test is was confident in my skills, awareness and ability to face variable situations whilst driving and this was thanks to you and your teaching style. After having four previous instructors over an eight year period I can hands down say I learnt the most from you. Your way of explaining how to approach driving techniques and the situations that arise whilst driving were extremely clear and felt very personalised to my learning style. You also had a very effective way of creating a relaxed driving environment and within each lesson it really came across like you were interested and invested in making me the best possible driver, not only going through what was needed for the test but introducing additional techniques, skills and things to be aware of for my future driving as a qualified driver. Never did you make me feel like I wasn't achieving when I felt like I wasn't doing so well, always using positive language and reinforcement throughout the lesson, praising my driving skills in the littlest of situations giving me the confidence in both my practical driving skills and awareness, in situations where previous instructors just wouldn't of given me any feedback. I cant say how happy I am to have come across you as an instructor and I would highly recommend anyone of any ability and age to take lessons with you. Thank you again.
Rob J
Easy going and very approachable
I booked to do an intensive course with James who was a fantastic driving tutor. Unfortunately things didn't go perfectly in my first test but James helped me understand what to put right and second time round I was successful!! He was easy going and very approachable. Never had a problem with getting hold of him to arrange lessons and always on time. Thanks James.
Stuart
Patience of a saint
I'd driven a bit when younger but about 20 years later decided it was time to pass. I did an assessment with James who worked out how many hours I needed as an intensive course. I was happy with his approach so booked up. It was great learning from him and many times I said how calm he was and he had 'the patience of a saint'! However I found him really helpful and his advice with roundabouts really made everything click. We were driving all the time with very little sat still at the side of the road. I was so happy to pass the examiner was rather surprised by my manly shoulder hug! Big thanks James.
Simon B.
First time, just one minor!
I did a lot of lessons 5 years ago but then never took a test. Having decided to get passed I found the LDC intensive course worked really well. I did 20 hours the end of October and took my test on the 31st passing 1st time with only 1 minor!! James is a really good instructor and I highly recommend him. I also found the LDC dvd and workbook a great help to understand what to do next and how to check how I was doing.